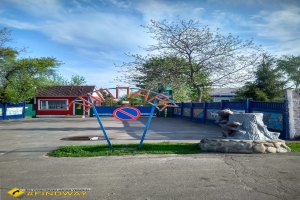 For 40 years, this tourist gem - a zoo of national significance - has been pleasing adults and children from all over Ukraine.
It all started with the fact that a local nature lover police officer brought a bird wounded by poachers home and began to nurse it. Then a few more, and then - saved two wolf cubs, whose mother was shot down while hunting. Neighbors, countrymen, knowing about Gennady's love for animals, brought to his court sick, abandoned animals. Pretty soon, the courtyard of the Polosmak family could not accommodate everyone who wanted to, and they had the idea to suggest creating a "living corner" in the then House of Pioneers, where they could take care of the animals together with the children.
Gradually, a collection of young naturalists began to grow and be replenished with new residents - from neighboring villages and districts they began bringing rare and not very homeless animals to Mena. I had to ask the local authorities to expand the land area under the menagerie. And so gradually, over 10 years, the zoo has grown to the status of "nationwide", it has been replenished from year to year with exotic animals and has become a favorite vacation spot for local residents and the "Mecca" of children's excursions during the holidays.
On the territory of the former Soviet Union, it was the only zoo that was located in the district center! Now you will not surprise anyone with various small private zoo-angles.
Still today this is a unique place:
- 3.3 hectares of land in the very center of the city near the highway "Chernihiv - Novgorod-Seversky";
- more than 1000 animals, more than 150 species;
- A whole pride of lions, leopards, cougars, zebras, kangaroos, camels, llamas, pelicans, crocodiles, monkeys, ostriches, bison, yaks, capybaras, bears, porcupines, deer, flamingos, peacocks ... and this is not the whole list of large animals, and also a bird's winter garden, a lake with waterfowl, a terrarium with reptiles and fish;
A special feature of the zoo in Mene is the proximity of animals to visitors, a great opportunity to examine them and take pictures, thanks to the special location of the cells. Visitors, had the opportunity to compare this provincial zoo with the capital and foreign came to the conclusion that Mensky - the best, some kind of homely. Well-groomed paths between trees, fountains and cells, you can walk all day to watch our younger friends.
How to get there!?
You can get from Kiev to Mena by bus (Novgorod-Seversky direction) from the Central Bus Station, or the Darnitsa bus station to the center of Mena, Chernihiv region, or with your own car - 210 km.
The entrance ticket to the zoo costs 25 UAH. - children, 40 UAH. - an adult. Nearby there are shops, cafes for recreation, parking for cars. The city has a hotel "Continent", where you can stay overnight to continue to travel in Chernihiv region.
Coordinates: 51.5218887, 32.2057611
Translation by:: Victoria Nerush
Write a comment for this product!
Interesting places of this region (0)
Copyright MAXXmarketing GmbH
JoomShopping Download & Support